America the Quarter-Full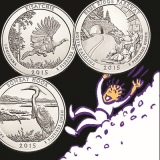 Quarters show the beauty of America.
Wondering what the U.S. Mint could be up to these days? One of their latest coin series is dedicated to showing the coolest sites that America has to offer.
The
America the Beautiful
Quarters Program honors the beauty of America and its national parks. There will be 56 quarters in the collection, one from each state and territory.
The U.S. Mint releases the coins in the order that the parks were established. Only five coins are released each year.
The first coin in the series is the
Hot Springs
National Park quarter, representing Arkansas. The coin was released in April 2010, one day before the park's 178th birthday.
The last coin in the program won't circulate until 2021. It honors the Tuskegee Airmen National Historic Site, established in 1998, and represents the state of Alabama. It is also the only coin in the collection scheduled for 2021.
2015 brings five exciting new additions to the collection:
It isn't easy to design a coin...
Tweet