Freshly Minted: 2015 Coins
I've got three quarters in my pocket, but they're not the same. The "heads" sides are all pretty similar, but the "tails" are nothing alike.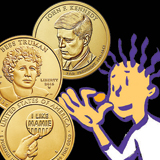 What could the Mint be coming out with next?
One has an eagle, the second a cactus, and the third an erupting volcano.
Why are they so different?

The U.S Mint, the agency responsible for making coins, sometimes prints special designs on coins honoring places, people, and events important to America. So, not all coins will look the same.

And the Mint is at it again!
Not another dead guy
Dead guys—specifically dead presidents—seem to be the Mint's favorite subject.
Even though the Mint has branched out a little in recent years-featuring women on some coins-every person on the coins is an old, historical figure.
It's no surprise that 2015 is no different. The Mint is releasing coins in two different series that commemorate historical figures:
Presidential $1 Coins
First Spouse Gold Coins
None of these people are alive...
Tweet