Make a T-Shirt Fashion Statement
Prices are rising for lots of things these days. When I go shopping, it seems as if the costs for a simple T-shirt have gone through the roof.
Prices for T-shirts range anywhere from $5 to $50—I think that's way too much for something that probably isn't very cool or unique anyway.
Here are three inexpensive ways to be creative and make a cheap T-shirt into a fashion statement.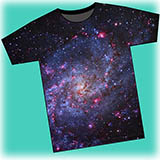 Make a cosmic T-shirt.
An Out-of-This-World T-Shirt
One out-of-this-world idea is to make a galaxy print shirt. Here's what you'll need:
Plain black T-shirt
Bleach in a spray bottle
Fabric paint
An old toothbrush
Small piece of sponge
Gloves
Plastic bag for inside your shirt
An outdoor patio, porch, or sidewalk
Start with a plain black T-shirt. Take your T-shirt outside. If you do this project inside, you could ruin your flooring and end up breathing in toxic chlorine fumes. Place a plastic bag inside your T-shirt to keep the bleach from soaking through.
Put on your rubber gloves, and spray the bleach on your T-shirt. Don't spray too much in one spot—space it out randomly. The bleach spots will start to turn a rusty-orange color within a few minutes.
Once you have an even pattern, twist the middle of your T-shirt, and spray the center of the twist. This will give you a nice galaxy-like pattern.
Place your shirt in the dryer until completely dry, then rinse in lukewarm water. Wait until T-shirt is completely dry. Then, decorate the shirt by flicking white acrylic paint from the toothbrush to make stars. Feel free to dab other cosmic colors onto your shirt using a sponge!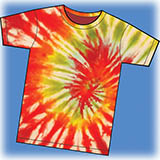 Learn to make a tie-dye shirt!
Love color? Try tie-dye
You've probably seen and even worn a tie-dye shirt before, but have you ever made one?
Making a tie-dye shirt is a fun way to spend a day. You'll also create a unique design. No one else will have a tie-dye shirt with the same pattern and colors.
Here's why I like making tie-dye shirts. I can:
Create matching T-shirts for my team or club
Have more than one favorite color
Bring back a popular '60s trend
Spice up a boring, old T-shirt
Be sure to invite your friends when you tie-dye to see who can make the coolest shirt!
Tweet