Get Ready for Your Credit Score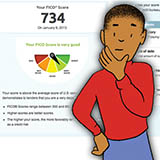 Your money report cardThere are all kinds of "credit"—you can take all the credit, give credit where credit is due, or earn extra credit in class.
There's also another type of credit—financial credit—that deals with borrowing money.
You probably borrow money from friends and family. Pretty soon you might be interested in borrowing from your credit union.
Whether or not you can do that will depend on a special kind of grade. It's called a "credit score."
What's a credit score?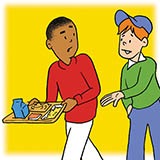 May I borrow $10?
Your credit score is a lot like the As, Bs, and Cs on your report card. Your grades show what kind of student you are, and your credit score shows what kind of money manager you are.
Your credit score is a three-digit number that helps lenders decide whether or not to lend you money, and at what price.
That number is based on mathematical formulas that use your habits and borrowing history to find out how likely you are to pay back a loan.
Here's an example
Your friend Steve always asks you for money to get a soda during lunch and he has never paid you back.
Steve just asked you for $10.
Before you give him the money, consider his track record:
He asks you for money all the time.
He's never paid you back.
And then he always asks for more.
Even if he intends to pay you back, he doesn't have any money to do so because he doesn't have a part-time job or an allowance!
From that information, you know you'd never see that $10 again. In fact...
Tweet