No Money? Borrowing Isn't Just for Grownups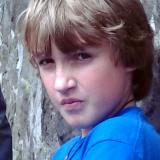 Borrowing or lending, trust is everything.
It's almost lunch time at school, you're starving, and you just realized you forgot your lunch card at home. What's a kid to do—
You don't want to go hungry all day.
You can't focus on school or get anything done.
You just used up all your free lunch pass limits.
—which means no lunch.
In my school we only get two free lunch passes and after that we have to buy a new one for $5 or try and get a friend to buy a lunch for you. This is why you must have trust with your friends. If your friends trust you to pay them back, they'll loan you money so you don't go hungry.
Has this ever happened to you? It happened to me. Luckily, I was able to borrow money from a friend, which allowed me to buy a new lunch card.
Sometimes you need to borrow money for life's greatest necessities.
Why borrow?
When you ask a friend to lend you money, the first thing you need is a good reason for borrowing. Otherwise your friend might think it isn't an important issue and decide not to lend you the money at all.
For example, you want to borrow money from a friend for a Snickers bar after you just spent all your money on three other candy bars. Your friend might think you have had enough and say, "No."
Plan to pay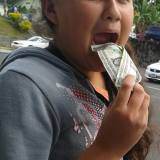 Raquel loves her money.
Second, you must decide how you will pay your friend back before you borrow money. Make sure you have a way or a plan to pay her back as soon as possible.
If you don't pay your friend back at all, she might think that you can't be trusted and probably won't lend you money when you really need it. Sometimes when you take a long time to pay your friend back, it can get uncomfortable and affect your friendship.
I once loaned a friend money and she didn't pay me back for a long time. I started to doubt her so I asked her if she was going to pay me back and she said, "Yes." After two days she still owed me money.
I felt angry because I thought she wasn't going to pay me back at all. Then after a few days she paid me back. I became a little more trusting with her but I still don't lend her money because of that experience.
On the other hand, sometimes my parents need cash and borrow it from me. They always immediately go to the ATM and pay me back. I know they will always pay me back quickly so I have no problem lending them cash.
My parents once needed cash to pay for lunch at a restaurant that only accepted cash. I proudly paid for lunch and they paid me back. It made me feel good that I saved them.
There are risks that come with borrowing and lending money...
Tweet