Screen-Free and Loving It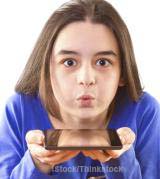 Take a break from your screens!
Do you know that the average daily screen time for teenagers is more than
seven hours
? The whole world is waiting for you just beyond the screen in front of your face!
A screen can be a TV, smart phone, iPad, or computer. If you're texting, playing a video game, or watching a movie, you're in screen time.
Screen time isn't necessarily bad, but too much of it and you could be missing out on important events happening IRL (in real life).
So consider taking a break from your various screens. When you power down your phone, TV, and computer, you might find you're turning on life.
Why would I want to turn my screen off?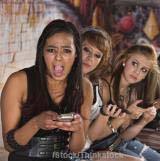 Is your crazy-meter registering HALT?
So you're wondering why exactly you should turn off your screen. There are medical reasons.
Studies find that too much screen time is associated with weight gain, sleep problems, impaired academic performance, and depression.
Playing too many violent video games leads to increased aggression and even violent behavior.
But an even better reason to turn off your TV and video games is all the fun you're missing!
There are many fun things you can do instead of playing on your phone, watching TV, or using your laptop...
Tweet