Hobby to Business: Cork Critters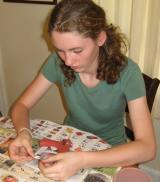 Spools, dice, and electrical connectors, oh my!
How can a handful of screws, corks, and broken jewelry turn into a business? If you're wondering, let me show you!
Cork Critters
I have a small business that I call "Cork Critters." Cork Critters are miniature animals that I make out of knick-knacks like spools, dice, electrical connectors, screws, buttons, and obviously, corks. No two are alike!
To put together the critters I have to use various tools, including:
A glue gun
A small hand saw
Wire clippers
After I construct the critters, I wrap them in tissue paper, tuck them into animal cracker boxes, and make labels to put on the top of each box with their names on them.
From hobby to business
My business started with just making the critters for fun and then giving them away. Then, my mom bought a few to give to her friends as Christmas gifts.
Later, my mom's friends saw them and asked if they could buy them. When I sold them as gifts and people gave them away, I got free advertising because the labels had my contact info on them.
Today I get many requests from people who received critters as gifts and wanted some to give to their friends.
First comes pricing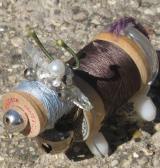 I need to constantly decide how much time each critter is worth.
Once you start a business, there is a lot more work than you'd think. The first step when running a business is to make sure you are always pricing your item so that you can make a profit.
Profit = Price – cost.
One of the costs that I have to pay attention to is the cost of the animal cracker boxes. I buy two types: One type costs $1.50 and the other costs $.60. However, the cheaper ones are smaller so I can't always use them for my larger critters.
Other costs are the tissue paper I use to wrap and protect the animals, and labels for printing the animals' names on.
Time is another factor. I constantly need to decide how much time each critter is worth and how much I charge for the time I spend on the critters.
I usually ask for a deposit in the beginning.
Next comes the bill
Once you have established that you will make a profit that justifies your time, you have to worry about invoices.
An invoice is a record of what the customer owes you. In most cases my customers give me a deposit in the beginning and then slowly pay me the rest of the money to add up to the final balance, or full amount that they owe me.
If my business keeps gaining popularity, I'll need to expand...
Tweet