New Year's Resolutions Don't Stop!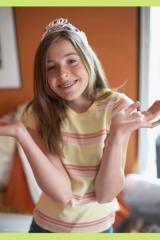 Start fresh: You've got a clean slate!
The week before New Year's Eve might just be the best week of the year.
You'll have nothing to do, no place to be, and no one telling you it's time to get up. This year, as you laze around in vacation bliss, think about your New Year's resolutions.
What's a New Year's resolution?
A New Year's resolution is a commitment to make a change during the coming year.
Having trouble thinking of some good resolutions? Here are some examples of popular resolutions and specific ways to achieve them:
Eat more healthily: Make half my dinner plate fruits and vegetables.
Get outside: Walk outdoors for 20 minutes four times a week.
Volunteer: Join a group that has volunteer opportunities that fit my schedule, for example, United Way.
Improve grades: Meet with my teacher to plan how to bump my grade up one letter in math.
Save: Put a third of my allowance into my credit union savings account.
Picking the right resolution isn't always easy...
Tweet