Passionate Path: Find Your Hobby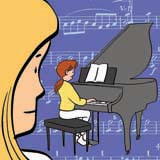 I wanted to follow in my sister's footsteps.
Finding a hobby can be a challenge. A challenge because you may not know what hobby suits you.
If something catches your eye, or interests you—maybe that's your hobby.
It is always more helpful to know exactly what you are looking for. I had a lot of help and support from my family and friends while looking for a good hobby.
When searching for a hobby, just look around. My sister played piano when she was my age. She enjoyed playing the piano and played all throughout high school. I wanted to follow in my sister's footsteps.
After you pick your hobby, sometimes the first step is to find lessons.
How to pay?
Look for lessons
When hunting for lessons, first see if you can get suggestions from your teachers at school.
Or, go to a music store and find out what they offer.You also can look at ads in your local newspaper, on grocery store bulletin boards, in church newsletters, and so forth.
I found my lessons by asking my sister's music teacher for suggestions. With help from my mom, I started my lessons in no time.
My best friend takes lessons at our downtown music store. I've heard the lessons are good, but I'm happy with my teacher. There is bound to be a local music store by your home, too!
Besides private lessons, you can also take lessons through school-if your school offers music lessons as part of the learning program or as an extracurricular activity. Then you can play with friends.
The teacher makes the difference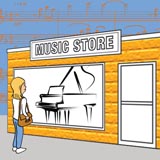 There is bound to be a music store by your home.
I take
private lessons
, but my friends don't.
It's important part to find the right teacher. Besides asking my sister's music teacher for suggestions, my mom asked her friends where to find a good piano teacher. One of my mom's close friends recommended the teacher I have today.
Before we started lessons we learned more about my teacher and his experience to make sure he was right for me. We get along very well and he makes learning new songs fun!
My teacher let me choose the first song I wanted to play and he helped me learn it very fast! I look forward to going to lessons every week.
Soon, I was ready for the next step, buying my own piano...
Tweet