Jumpstart Your Career with an Internship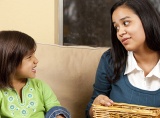 Will childcare land you a job as a marine biologist? Babysitting, dog walking, lawn mowing—you've already heard of these typical jobs for someone your age.
You can earn a nice chunk of change from these jobs, but they normally aren't related to the field of work you're interested in.
Have you ever heard of an internship? It's a temporary job that sort of acts as a training course for a career you are interested in—some are even paid.
What's so great about an internship?
Internships are helpful to your career because they require little experience, but will teach you a lot about the position you think you'd like to have some day.
School might teach you some things you need to know for your career, but hands-on experience is key to landing your dream job.
Because an internship is normally set for a short period of time—like the summer—it is a low-commitment way to find out more about the career you're interested in. You might even decide to completely change your career path after spending some time in your field of interest.
Many internships are for high school and college students, but there are also some for kids in middle school.
Middle school too!
You might be surprised by how many intern opportunities there are for middle school students. You can look online or in your local newspaper to find internships you can apply for. Here are just a few resources from different parts of the United States:
You can search online for youth internships in your area...
Tweet