Take a Leap With Creative Gifts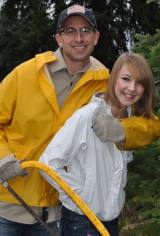 Cutting down the Christmas tree
Christmas, Valentine's Day, graduation. These are the holidays and occasions that everyone waits for. What is one of the reasons for this? Presents.
Thoughtful Gift Giving
I asked my friend what presents mean the most to her and she responded with an astonishing reply, "I love gifts like video games or clothes, but if you were to give me something like a picture of the both of us or a giant card with all our inside jokes, it would be much more memorable."
Some may think that the perfect gift would be too expensive or take an excessive amount of time, but it doesn't have to. Knowing the receiver's interests and hobbies is the first step to creating the perfect gift. After that, it's smooth sailing—letting your creativity take control.
Creative ideas for girls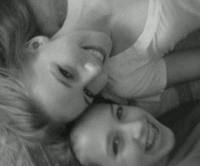 Never let the memories pass through your fingers.
For girls, I say stick to the basics. Go for something such as a picture frame. I recommend finding a frame that is a little bigger than the actual picture itself. Place the picture in the center of a plain piece of paper and let the creativity ball roll. Use glitter, doodles, and write inside jokes all around the picture in the extra space. This present is my all-time favorite and is absolutely bulletproof.
Going further, friendship bracelets are a fantastic way to let your friends know you care. Start by grabbing some different colored strings from your local grocery store or maybe even your closet. Next, begin braiding the strings together so it blends into gorgeous jewelry.
Beaded bracelets can include the messages BFF, forever and always, or maybe string both of your names on one. With these key ideas you are guaranteed an astonished smile once your gift is opened.
If you're going for something less of a challenge, write a meaningful card. Guys, I know this isn't your thing, but you've got to take out some of your warm and fuzzy personality to perfect this gift.
Cards don't necessarily have to be poetry or anything mushy like that. Again, gluing on a picture of the two of you or just writing a common phrase, such as "Happy Birthday!" isn't good enough.
Write a couple of sentences talking about the good times you've had with this person and the memories that the two of you will never forget. By coming up with original ideas and using your imagination, choosing the perfect gift will come easily to you.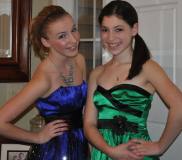 My friend, Mikayla (right) and I love to dress up.

Gifts for girls and boys
If you are a noncreative person that goes for the classic "head to Target and pick something up," these next gift ideas are for you.
When you're a teenager, everyone loves music. iTunes gift cards are very popular right now and come at a minimum of $15.
Next, if your friend is a movie addict like me, make a Movie Night Package. Grab a quick DVD that the two of you can watch as well as some popcorn and your friend's favorite candy. If you pick the right movie and a fantastic treat, this present could become just as thoughtful as a crafty frame.
Electronics consume all of our lives in some way, so another creative idea that involves a little bit of money is a new Skinit.
They come with themes or, for a couple extra dollars, you can completely personalize the skin, adding pictures and words of your own. These are around $15.
Spending money is the easiest way to grab a present, but not always the best way. If you do decide that spending money on a gift is the way to go, make sure you don't spend too much or you may regret it later.
Let's not forget about the guys...
Tweet