Girls Making Media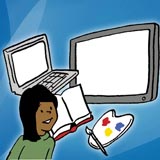 "The medium is the message."—Marshall McLuhan
Would YOU like to make media?

First of all, let me inform you about media.
The dictionary says that media are "the means or channels of general communication, information, or entertainment in society."
That would be, for example newspapers, radio, or television.

To me, media makes up your opinion of society, how you view things, and how you portray it.
How I portray it
I'm involved in Girls Making Media (GMM), where my friends and I are learning
skills
that we'll be able to use every day in our community.
You can do many things to a movie, such as making the font bigger and changing the brightness of the segment. The skills we learn will help us be good communicators!
Girls Making Media
empowers young women, ages 12 to 21, to express themselves.
The program's main goal is to teach young women digital media skills by making public service announcements (PSAs) about important events and issues in their lives, and things that they feel strongly about.
In a PSA, you get to express yourself to the public about the topic you select.
The experience is the pay

The experience I'm receiving with GMM is priceless. I hope that all GMM attendees feel the same way. It doesn't matter that we don't get a paycheck. We sometimes get a small stipend from one of the funders for our hard work on a project.

The stipends aren't much, but that hardly matters. Helping other organizations make media gives us the opportunity to gain media experience, thereby gaining "skills to pay the bills."

These skills provide good material for a résumé.Résumé

A résumé is a document that explains your job experience, education, and other skills you may have that are useful in the workplace.

Employers look at your résumé before they hire you for a job.

Any community service, school recommendations, awards, or small job opportunities you can add to your résumé will help you look good.


Close

The experience and skills we list on our résumés will help us look more professional to college admissions officers.
Success starts with a good foundation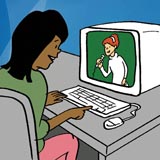 Learning skills to pay the bills! To become successful in life, you have to build a good foundation, something I've started with GMM. Having a good foundation will also help you become more prepared for college.
In addition, the skills you develop and organizations you participate in may intrigue thoughtful and generous individuals to give you scholarships.
These awards will definitely help you financially prepare for your future.
Trust me. Enhancing your skills will help you get a desirable job when you graduate. In addition, your résumé, appearance, and how smart you are will all help you acquire a great position.

And it all comes to fruition when you get hired for a job, get paid, and can afford a more comfortable lifestyle...
Tweet