From Seoul to Minnesota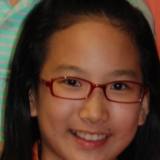 Jessica's first day
Jessica arrives on a hot August day, after flying from Seoul, South Korea, to our airport in Minneapolis.
She's got a smile on her face when she meets us, but she's also very shy.
This begins my story about hosting a
foreign-exchange student
...
What time is it?
The time change makes it feel like it's four o'clock in the morning to her, and she gets sick. After she takes some medicine, she feels a lot better.
She has always lived in Seoul, South Korea. Seoul is a city of more than 10 million people. She has never seen a lake or been on a boat. She has barely even seen any birds! So we take her to my uncle's cabin.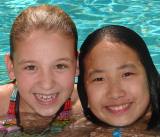 Pool time is fun time!
Jessica is surprised there are cabins in the U.S. because they don't have them in South Korea. "I like the fresh air. I was so used to the dirty air in Seoul, so the fresh air is really nice," she says. She's shocked by the clean water because she has never seen that either.
When we get back from our uncle's cabin we only have one day of summer vacation left until school starts. She's nervous about the first day of school. She doesn't know if school will be easy or hard and she doesn't know what the kids will be like.
Routine life in America
When Jessica gets home from her first day of school she tells us that it went great. All of the kids are nice and if she has any questions she can just ask my sister, who sits next to her.
Jessica makes friends easily and since she speaks English so well she's a
very good student
. Jessica thinks it's weird that textbooks at school are used year after year by different students. She has some trouble getting used to school, but she doesn't tell anyone at first.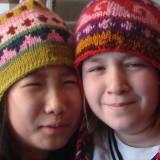 Just like sisters!
Jessica keeps the statistics for Anna's basketball team. She goes to every one of my sister's soccer games and Girl Scout meetings.
The kids really like Jessica. They're fascinated with her. They have never met anyone from another country before.
Jessica misses her home sometimes, but she gets to talk to her mom every week. In her spare time she likes to stay in her room and read.
She does this mostly when she's sad, or when there's nothing going on. One time she stayed in her room the whole day and I didn't even know it. She's so quiet.
She reads all of her books in English. She mostly reads American fiction. She gets most of her books from the school library.
Jessica says there are many differences between daily life in South Korea and the United States...
Tweet