BMX: A Lesser-Known Amazing Sport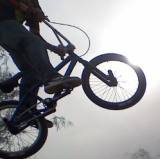 Ride into the sun!
Have you ever wondered about extreme sports? Here's what I've learned along the way about one extreme sport known as BMX.
You see someone riding down a street on a bike that looks ridiculously small for them. Most of the time, that's a BMX-er on a BMX bike. BMX bikes are small bikes that usually have a 20-inch wheel diameter.
There are two basic types of BMX: racing and freestyle.
Racing is probably the more expensive type out of the two. That's because of the different and specialized equipment needed to race and become a successful racer.
To start out racing you will need:
A helmet, preferably full-face
A BMX bike, size varies subject to size of rider
A membership at your local ABA track (American Bicycle Association—the official and only BMX racing organization)
Long pants and a long-sleeve shirt
I also recommend gloves, elbow and knee pads, and skate shoes.
Racing is expensive for another reason: fees. Races at ABA-sanctioned tracks cost between $10 and $20, and every practice night costs $5 to $10.
Street racing, is the most popular freestyle BMX type. This is basically riding for the sake of BMX riding. You do tricks or jump things as you please—keeping within the law—for the sake of having fun.
This BMX type is the coolest to watch. The equipment you need for this type includes a helmet (doesn't have to be full-face) and a sturdy bike built for freestyling.
Now you're probably thinking, "These sound cool. But I don't have the money to get into them!" Well, here's the thing—there are lots of ways to raise the money to get into BMX or any other kind of expensive sport.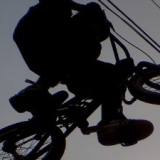 Interested in investing in the sport?
Now to get the most important part, the bike!
I strongly recommend starting on a very low-level bike. Go to your "big-box" retail store and look for 20-inch BMX bikes. This way you'll have a decent bike to start out on and you won't spend a lot of money to realize that BMX just isn't for you.
Saving for your bike
Saving for your first bike is all a matter of mindset. You have to want to get your bike, whether it means setting aside a little of your allowance every week, or working to earn money.
Once you've saved enough money, research bikes and figure out which bike is the best deal and which is going to suit your needs the best...
Tweet