Take a Stab at Fencing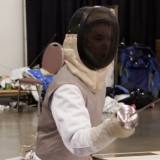 This is fencing as I know it!Fence. As soon as this word leaves the referee's mouth, I lunge forward with all my might. I'm straining to reach my rapidly retreating opponent while at the same time madly circling my blade around his to avoid the block.
Then, I feel the touch. Just as my front foot reaches the ground, the tip of my blade lands squarely in the middle of my opponent's chest—a fraction of a second before time expires.
This is fencing as I know it.
Types of Fencing
The three types of modern fencing are:
Foil
Épée
Sabre
When fencers practice and compete in multiple types of fencing, they most often do foil and épée. Those two styles have many similarities.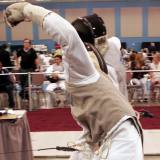 These are my three favorite foils.
Most fencers choose one weapon and stick to it for as long as they fence. This is so they can master one weapon and then don't have to switch their style as often.
Foil
Foil is the oldest and most popular of the modern forms of sport, or Olympic style, fencing. It has a target area limited to the torso and uses
right of way rules
.
In foil, the sword is about 3 feet 6 inches long and is fairly flexible. Competitors score points by hitting their opponents with the tip of the blade.
Foil, because of the small target area and method of scoring, is widely considered the most technically challenging of the three styles.
Épée
Épée is similar to foil, but the target area is expanded to the entire body, including hands, head, and feet.
Épées are slightly heavier than foils because the blades are thicker, and the portion of the weapon that protects the hand is enlarged.
Watch épée fencing at the 2005 World Championships in Leipzig, Germany.
Épée requires the most agility and athleticism of the three forms because of the large target area.
Sabre
When most people envision the sport of fencing, they picture the Sabre style—pirates hacking at each other with rapiers.
In Sabre, the target area is anything from the waist up. Fencers may hit each other with any part of the blade (slashing or stabbing).
Sabre is the quickest and most physical of the three modern forms of fencing because of the aggressive element that slashing adds to the fights...
Tweet