Inexpensive Makeovers
Blue jeans makeover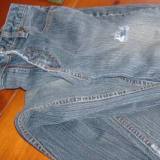 Make your old clothes cool.
When another friend told me about the amazing blue jeans she saw at the mall, she said, "But the price was unbelievable!"
I sighed. She always has the best clothes, and I don't, because at the stores, they never have what I'm looking for.
So, I figured out how to make my clothes just as sweet! You can do it too. Follow the link to the left to find out how to make your old clothes in style.
Get ready for what happens when you wear your "new" jeans to school. One of my friends looked at them, and said she wished she could find jeans like that!
"Wow," says another friend, "you have got to show me how you did that to you pants! You always have the coolest stuff!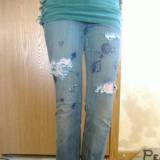 What about dress code?
I'm laughing! These are my best pair of jeans, and they are just what I was looking for! And they were tons of fun to make! Maybe next time I'll sew on a sweet patch!
Makeover party
My friends are always commenting on my locker and my jeans. One says, "I don't think there's a person here who has cooler stuff! You've got to help me!"
It's fun to do these projects together. Each on is a weekend project, and I usually say to my friends, "Why don't you come to my house, and I'll help you to do it?"
When they come over, we have a ton of fun. We've even given our decorations as birthday presents!

True or False: President Jackson believed corporations were crucial to the future economic success of the U.S. Click Andrew's head for the answer.
FALSE: Jackson was a fierce opponent of corporations and big banks, believing they would erode the political power of ordinary workers and farmers.
Tweet