What's Inside Your Candy Bar?
Sunset Yellow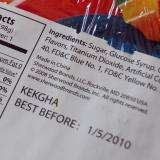 Read the ingredients.
Ingredient number four is called Sunset Yellow. What a beautiful name! It sounds appetizing doesn't it?
That's what I thought until I found out until I did some reading on it. According to Wikipedia, it's a food coloring made from synthetic coal tar and azo yellow dye.
Some people have said that this ingredient can cause an allergic reaction, diarrhea, skin swelling, and vomiting. Some studies also show sunset yellow has also been known to cause hyperactivity in children. Since 2003, European countries have banned the use of some azo dyes.
I put it in Wickertricks to make it look good. It gives the candy a signature yellow color.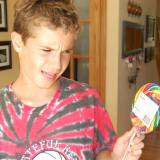 Find out about many different types of sugar here.
High fructose corn syrup
Oh boy! Ingredient five is high fructose corn syrup.
High fructose corn syrup (HFCS) is a group of corn syrups that has undergone enzymatic processing. 'Enzymatic'… ooh! That name doesn't sound very appealing to me.
The processing changes one form of sugar (glucose) into another form (fructose). Then it is mixed with corn syrup that still has a regular amount of glucose, and BAM! You've got high fructose corn syrup.
The name 'high fructose corn syrup' doesn't sound as appealing as Sunset Yellow, but this time, I think the name tells more about the ingredient.
Corn syrup is a sweet-tasting sugar replacement. It's in a lot of foods that don't have sugar, and some that do. This is used in your everyday candy as well as in Wickertricks.
Corn syrup has been connected to health problems, such as weight gain. Diabetes also became more of a problem.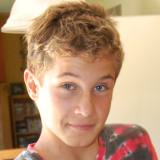 Mercury in HFCS? Read the story.
Do you like mercury? If not, then watch out for corn syrup, because mercury has been found in high fructose corn syrup.
For your information, mercury is the toxic chemical that's used in thermometers. It might also be in Wickertricks.
Monosodium glutamate
Ingredient number six, monosodium glutamate, or MSG, is a flavor enhancer that some foods contain. It's been around for over fifty years.
Some people think MSG is a cause of obesity. Research on that possible connection continues. A few foods that this ingredient can be found in are: soy protein, barley malt, soy sauce, and bouillon.
Now, let's talk about ingredient number seven, artificial food coloring...
Tweet