What's Inside Your Candy Bar?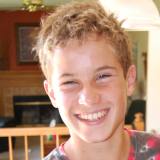 I love candy!
Candy is really good. I love it!
I always used to eat candy without reading so much as the name of the bar. Then my mom started telling me how bad the ingredients were. I started doing some research on the Internet.
A lot of websites said some of the ingredients were bad too. But this confused me because the government approved their use in candy bars.
I'm going to tell you what I found out about different ingredients.
Have a Wickertricks
There are a lot of different ingredients out there, so I will combine a bunch into a made-up candy bar called Wickertricks.
This candy bar has a lot of good ingredients, and a lot bad ones. I've taken these ingredients from a lot of candy bars you see every day:
Wickertricks Ingredients:
Chocolate
Egg whites
Skim milk
Sunset Yellow
High fructose corn syrup
MSG
Artificial food coloring
Now I wouldn't worry about ingredients like chocolate, egg whites, or skim milk. Those are pretty healthy.
But let's look at the rest of the ingredients in my made-up candy bar...
Tweet