First Job Means First Paycheck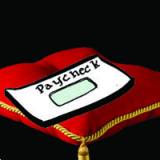 Strange first jobs of the rich and famous.
The dream: you're trapped at a party with your parents and their friends.
It gets worse: you can't just hang out. Your parents expect you to converse.
Don't panic
Try this sure-fire entertainment instead: Ask your parents' friends about their first jobs. Then sit back and let them interview themselves!
What you'll discover is that most people start out at the bottom and are surprised where they end up.
Here are three first-job realities that are true for just about everyone:
1. You'll be shocked when you see the difference between gross income and net income.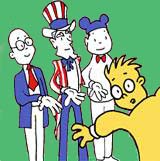 What you earn's not what you get!
You're not the only one who has claims on what you earn!
"When I got my first check, I remember wondering 'Who are these FICA people and why are they taking this much out of my check before I even get it?" says Javier.
"My father explained the tax thing to me before," but Javier admits it didn't really hit him until he saw it in writing."
Suddenly, "I realized the difference between how much you earn and how much you really end up with," he says.
You should pocket your hourly wage times the number of hours you worked, right? Wrong!
Your gross income (hourly wage X number of hours you worked) will be reduced by deductions.
To see your deductions, look at the earnings statement attached to your check. Along with your identification information and the pay period (dates the check covers), it will include your:
Gross income
Deductions
Net income
Net income is the amount you get to keep. Which leads to reality No. 2...
Tweet