Study for Life
The droning drivel starts the minute they open their mouths. 'It's pointless to listen, I'll never use this stuff,' you think.
Believe it or not, your teachers are giving you valuable information. You'll be amazed at how much of what you learn today will apply to tomorrow!
The Shakespearean linebacker
People in the following careers all require skills that are different from their area of know-how: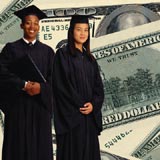 The US Department of Labor says more education means higher wages.
Artists need to know math. Most are self-employed and must keep track of their income, expenses and taxes.
The road to the NFL is paved with a college degree. That means pro-footbal players need to learn English—it's required in high school and college.
Certified public accountants (CPA) need to speak with clients and report their findings. Good customer service and marketing require communication skills they can't get from a calculator.
Changing careers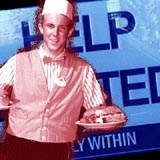 Would you like fries with that?
The average person changes careers three times during a working lifetime, and changes employers much more often.
Business and industry are changing every day. Many of today's jobs will disappear.
For example, 20 years ago typewriter repair technicians and attendants to pump gas were common. Now these jobs no longer exist.
The impact of the Internet has created thousands of jobs in the same 20-year span. New careers that have sprouted are:
Web designers;
Electronic commerce security specialists;
Online game producers;
Online game marketers.
Some careers will always be around. We'll always need architects to design buildings, teacher to teach, and doctors to provide health care.
But then again, maybe not. Who knows what careers will develop in our lifetimes?
What should you do?

What are the fastest growing and declining jobs in the next 5 years?
It's hard to know what career will be important 10, 20 or 30 years from now. Here's what you can do now so you don't get left behind later:
Keep an open mind. Find something interesting about each course you study.
Try and understand trends. If a new technology emerges, like the Internet, figure out if it will change the way we work.
Don't sell yourself short. Be a jack-of-all-trades and learn a little bit about many subjects. This will make you easily adaptable to change.
Learning is a discipline. The skills you develop now will help you for the rest of your life.

True or False: Andrew Jackson was referred to as a 'Jackass' during his 1828 election campaign. Click Andrew's head for the answer.
TRUE: In fact Jackson was quite fond of the nickname and used it as his symbol for awhile. It later became the symbol of the Democratic Party.
Tweet