Filene's Legacy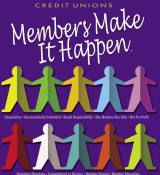 186 million people all over the world belong to credit unions today.
Can you name someone who's left a legacy—that is, they've made a big difference in your life and in the lives of many people?
Here's one you already know: Amelia Earhart. The first woman to fly an airplane across the Atlantic, in 1937 Earhart disappeared as she was circling the earth around the equator in her plane.
Earhart's legacy is a freethinking spirit and vision of success against all odds.
Edward A. Filene had spirit and vision too. His legacy to us is all of the credit unions in the United States.
One of every four Americans belongs to a credit union.
Filene's Vision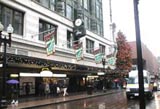 Filene's Department Stores have disappeared, but Filene's Basement lives on under new ownership.
Filene was a wealthy retailer who lived from 1860 to 1937. He died the same year as Amelia Earhart.
Filene earned his wealth from his father's Boston-based department store, Filene's. Do you recognize that name?
He was a creative man who always looked for new solutions to problems. When he took control of his father's department store, he introduced many new ideas:
The bargain basement, or area in a store where items are sold at lower prices than usual
A new way of selling—offering "your money back if not satisfied"
During his lifetime (1860-1937), ideas like these were revolutionary.
For examaple, in his department store, Filene pioneered workplace practices that we take for granted today, such as:
The 40-hour work week
Minimum wage for women as well as for men
Profit sharing plans
Medical insurance for workers
Filene traveled the world...
Tweet