Angela Melville and the Mountain Credit Unions
Read the stories of other pioneering women who helped shape the early credit union movement.
Angela Melville galloped into town on a black horse named Pearly. Pearly was the "best horse in Kentucky."
Melville didn't need a whip or spurs. A soothing word every now and then kept Pearly moving.
A car would have been trouble. The roads are steep and rough in the Appalachian Mountains. Melville's horse carried her from town to town.
That was her job: to visit different communities. Melville knew mountain people. She wanted to make their lives better. A credit union could do just that.
Melville arrived in Clover Bottom, Ky., in the early 1920s to start a credit union. Hard working people often found themselves deep in debt. Melville had the power to stop that problem.
Loan sharks
Most mountain people were hard working and honest. Many labored in coal mines. They wound up in debt because of loan sharks.
When regular, working people needed extra money they couldn't go to banks back then. Banks only wanted wealthy customers. The people would have to find someone else to lend them money. Often they'd find a loan shark.
Loan sharks gave people the money they needed to fix their houses, buy horses, or pay doctor bills. The problem was, the loan sharks made them pay back more than they borrowed--a lot more.
A railroad worker in Chicago once borrowed $30 from a loan shark. Over time he paid back $1,080 in interest on that loan. Then, the loan shark sued him for not paying back the $30!
Clover Bottom
Credit unions gave people financial freedom.
Eleven farmers gathered at the Clover Bottom church house with Melville. She told them that a credit union could lend money at a low price. They wouldn't have to borrow from loan sharks anymore. A credit union is like a bank. People can keep their money there. And they can take out loans.
But credit unions are different too. People who keep money in the credit union own the credit union. That means they get to decide who runs the credit union. The credit union makes money by charging interest on loans. The interest goes to the people who own the credit union--regular, working people.
The farmers liked this idea. They hung posters in all the local stores inviting people to come organize a credit union. The next day most of the town came together and created their credit union.
Melville and her horse Pearly rode off to the next town. In 1925, she moved back to Jamaica and continued to promote cooperatives.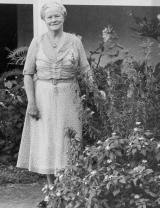 Melville continued to promote cooperatives back home in Jamaica.
Horseback adventures
The first mountain credit union Melville organized was in Beattyville, Ky. It started with $98.40 in savings and 22 members. When she stopped organizing credit unions, Melville had visited more than 20 states.
In Iowa, she sat on the railroad tracks to help railroad workers form a credit union. In New Orleans she helped postal workers create Louisiana's first credit union. She even helped pass a credit union law in Georgia.
In 1925 Melville quit working for the Credit Union National Extension Bureau. She then moved to the land of her birth, the island of Jamaica in the West Indies. She kept her interest in cooperatives—businesses owned by the people who use them.
Melville taught many people how to help each other save money and borrow money at less cost. And having more money helps people live better lives.

True or False: Andrew Jackson was quite the mediator when he was growing up. He preferred to solve problems and disagreements through words. Click Andrew's head for the answer.
FALSE: A majority of Jackson's mediating was done with his fists. He would get into fights at the slightest provocation. He even entered a duel with Charles Dickinson that left a bullet in Jackson's chest and killed Dickinson.
Tweet