Plan to Save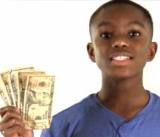 Coletrane tells you how it pays to be a member of a credit union.



Top five secrets to saving
1. Every time you get money, save some of it.
Saving regularly is the No. 1 secret to building wealth. Make saving a lifelong habit.
2. Remember why you're saving.
There's an expression: "saving for a rainy day." But it's more fun to save for a sunny day—for all the things you want! Establish your own savings goals—your personal reasons to save.
3. Your pocket isn't a safe place.
To help you control your spending, carry only the money you'll need for the day. Put the rest in your different credit union accounts.
4. Make your money work for you.
If you don't have a savings account, start one at the credit union. Your deposits will earn interest (sometimes called dividends).
5. Spend wisely.
What's one way to get money out of your savings account?
Draw a picture of it
Speak slowly to yourself
Withdraw some of it
Write a check
Know
how
to spend. Choose what you buy carefully. Know how to spend. Choose what you buy carefully. Do comparison shopping to get the best price and buy quality items that will last.
Do these five things and you will be financially stable and could become a happy millionaire one day!
If you have a long time before you need some of the items in your spending plan, consider accounts other than a basic savings. There are other options:
These kinds of investment accounts tend to earn higher yields than a savings account. CDs and money market accounts are insured but mutual funds and bonds are not. All of them usually require you to keep a bigger balance than a regular savings account.
Talk to the people at the credit union about starting your accounts and get moving towards your future purchases and financial goals!

True or False: When the US issued its first postage stamps in 1847, the postmaster general wanted to use Jackson's image on the new 5-cent stamp. Click Andrew's head for the answer.
TRUE: The postmaster general wanted to use Andrew Jackson's image, but switched to Ben Franklin, because it would be a more unifying icon for the divided nation.
Tweet