Forming the First Credit Union
Part 2 in a 2-part series on the formation of credit unions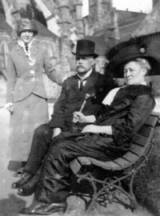 Desjardins in his later years.
Alphonse Desjardins began his quest to form a credit union with research.
Credit unions are cooperatives. Cooperatives had been around for many years when Desjardins first heard of them.
Some sources say that people began to need credit unions when European society switched from a feudal to capitalistic structure.
Under feudalism, peasants were farmers who worked on land that nobles owned. The nobles provided peasants with the land and the tools to grow food.
Instead of paying rent, peasants pledged their loyalty to the landowners and gave them a portion of the food they grew.
Under feudalism, people made the things they needed such as food, clothes, and houses.
Under capitalism, people work for money to buy the things they need. The extra step is very important.
In a capitalist society, people have to buy their own land and equipment to grow and harvest crops. That's a hard thing to do unless you have a lot of money or a source of credit.
People who spend foolishly or don't make enough money cannot get the things they need...
Tweet