Save for Later
Part 1 in a 2-part series on the formation of credit unions
Here's the story of a young man who found a way to help hundreds of thousands of people.
He showed them how to take control of their money.
By doing so, he became one of the most famous people in his country.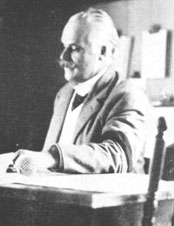 He has an award named after him.
Bad times
Alphonse Desjardins (al-FONS day-ZHAR-din) was born and raised in turbulent times—right after the social and economic chaos brought about by the Industrial Revolution.
He wanted to change it—to help people pull themselves out of their distress.
Small farmers who couldn't afford new equipment would borrow money from loan sharks to pay for it.
About 500,000 French Canadians moved to US cities because they lost their homes, land, and machinery to these unscrupulous lenders.
They found little work. Factories were closing, people were rioting for food, and crime was rising.
Conditions were harsh even for those who had jobs—especially children. Employers ruthlessly used workers for their own profit.
Humble beginnings
His father, Francois Desjardins, was a farmer from Saint-Jean-Port-Joli. When his farm failed, he moved with his wife and children to Levis, Quebec, in search of work.
On Nov. 5, 1854, Mr. and Mrs. Desjardins' eighth child, Alphonse, was born. The family grew to include 15 children, seven boys and eight girls.
Not long after they settled in Levis, something terrible happened. François was seriously injured at his job and could not work anymore.
His wife was forced to wash, iron, and mend the clothes of well-to-do families to support her family.
Desjardins grew up with all the hardships of the poor. But his parents raised him with strong morals and religious beliefs.
His mother insisted that he get an education. And young Alphonse dreamed of ways to ease her burdens.
At age 16, Desjardins left college to help support his family. He joined the Canadian militia, an army of civilian volunteers, during the Red River Rebellion and returned to Quebec to become a reporter.
Cooperative beginnings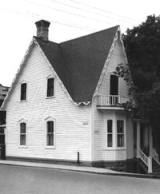 Alphonse and his wife Dorimene started the first caisse populaire in their home.
In his reporting career, Desjardins studied economics and social science. He saw that the average worker had no access to low-cost credit or banking services.
When average people needed to borrow money, they turned to loan sharks. The loan sharks made people pay back a lot more money than they borrowed.
For example, a man took a $150 to save his family from going completely broke. He had to pay $5,000 back to the lender for that loan.
Because of this, Michael Quinn, a member of the Canadian House of Commons, submitted a bill that would forbid usury.
Desjardins was working as a reporter in the House of Commons on the day Quinn introduced the bill.
Desjardins decided to help common workers borrow money at a reasonable cost. His younger brother Napoleon showed him an article about cooperatives in Rochdale, England.
With some research, Desjardins found that Canada already had a few cooperative bakeries and stores.
Desjardins studied banking cooperatives in Europe. He became certain that Canada needed cooperative banks, or credit unions.
Cooperatives could lend people money for a small price. All the people who use a cooperative own it.
Everyone would have equal power to elect leaders to the credit union's board of directors no matter how much money they had in their accounts.
The first Canadian credit union opened for business on Jan. 23, 1901 in the Desjardins' house. It was named La Caisse Populaire de Lévis (meaning "people's bank of Levis").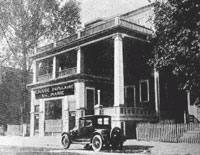 The first US credit union—St. Mary's Bank Credit Union, Manchester, NH, 1908.
On its first day, the credit union gathered $26.40 in deposits. Desjardins handled all of the transactions—a job for which he did not get paid.
A school for thrift
...this credit union is also and above all a school for thrift...it must teach respect for the penny—which is so little considered that it is wasted at times criminally, surely always a wrong," Desjardins told the congress of youth at Quebec.
In the late 1800s, much like today, many young people didn't put much thought into how they spent money.
Often, they would spend what they had on items they wanted right now. Desjardins hoped his school for thrift would convince young people to think about what they might want or need in the future and save some of their money for that.
People could live better lives, thought Desjardins, if they planned ahead and saved their money.
Students can help manage credit unions in their schools.
This is especially true for those who begin saving money in their youth. Desjardins wrote that children who learn to save are less likely to spend money foolishly as adults.
He helped organize many youth savings clubs and in-school "banks," known as caisses scolaires.
Desjardins believed that people who live in fair conditions behave honestly. Even crime could be diminished through savings.
Continuing the mission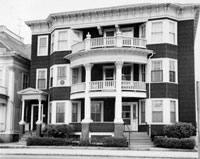 The second location of St. Mary's Bank Credit Union building is now America's Credit Union Museum.
Desjardins helped form 206 credit unions in Canada and the U.S. Today, his work helps millions of people save money. Credit unions continue to be schools for thrift too.
Young people not only save their money at credit unions, some help manage credit unions inside their schools.
About 300 credit union branches are located inside elementary, middle, and high schools across the US. All of them are student-run to some extent.

True or False: Andrew Jackson's pet parrot wasn't allowed to attend Jackson's funeral. Click Andrew's head for the answer.
TRUE: People couldn't keep the parrot from swearing.
Tweet