How to Win an Election at Your School
Thinking about running for student elections can be scary and nerve-racking because other people are vying for the same position.
You're wondering, "Why should people vote for me? What would I do if I win? How do I get my name on the ballot?"
Take a deep breath. With a little planning, you can be on your way to winning your election.
Why should I run?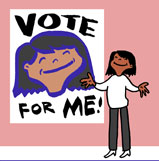 First: decide why you want to run.
Before you do anything else, you need to decide why you want to run.
The best reason: you want to help other students. For example, if you run for student council, you should realize that your main job would be to help improve things in your school.
If you run for president of a club, and you win, organize and plan to help your club meet its goals.
Where do I start?
Advice from middle-school students who've been there.
After you've decided why you're running, find out how your school's elections work. Ask a teacher or your principal what you have to do to run, and find out the deadlines.
Most schools require nominations. This means that someone has to say that they think you make a good candidate.
Don't miss your chance because you waited for someone else to think of you for a job that you know you can do. Ask someone to nominate you!
Once you're on the ballot, find out your school's campaign rules
Once you know the rules, start campaigning...
Tweet