Watch Your Money Grow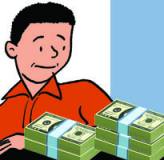 You say interest, I say dividend.
Do you know your regular allowance, gift money, and pay from your jobs can earn you more money?
When you put your money in your credit union savings account, it's called investing.
When you invest, you earn more money, called a return. Interest earnings are a common form of return on investment.
AJ's has two calculators to compare different ways your investments earn interest at your credit union: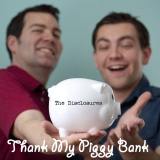 Have you thanked your piggy bank?

How do these investments differ?
The way you invest determines how you name it. If you invest money one time, you call it a lump-sum investment.
Lump-sum investment example: You invest that brand-new $100 bill your grandmother gave you for your birthday.
If you invest money on a regular basis, you call it a periodic investment.
Periodic investment example: You decide to invest ¼ of your allowance every week to start a my-next-cool-thing fund.
When you invest money in your savings account, your account balance grows like an upside-down pyramid...
Tweet