Earth Day: Make a Difference

Whew, that really stinks!
Do you know that kids helped to create Earth Day more than 35 years ago?
What do you do on Earth Day?
Here's what!
Think about something that you really care about. It can be from a small concern, like a trashed bike path to the global crisis of pollution.
You can make a difference for anything that is important to you.
Start in your heart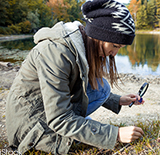 Find an Earth Day program for kids in your community.
Think of ways you can help:
For the bike path, just go out and clean it up with a couple of your friends. Invite your parents.
Or call a local leader and offer to put up "No Littering" signs beside the path.
Whatever contribution you make will help. There are ways to make a change that take little effort. All you need is a little cash...
Tweet