Have a Garage Sale!
You see something at the mall, and you ask your mom for a quick advance on your allowance. But when you hold out your hand for the green stuff, she rolls her eyes at you and sighs.
Access denied. What do you do?
You need to earn the money, but how? Suddenly, the light bulb goes on.
You'll have a garage sale!
Need convincing?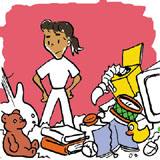 When you have a garage sale, you:
Earn your own money, while learning how to manage it;
Learn the value of a dollar, and of your time;
Clean the clutter out of your life (and your closet!);
Recycle things you don't need anymore;
Benefit charities with your leftover items; and
Make extra space for those things that you just can't live without.
Get organized
Garage sales involve a ton of work. Gather friends and family to help! They may even have their own things to add to your sale. Bigger sales attract more customers.
Decide on details.
When will you have the sale?
Where will you hold it?
Will you sell for more than one day?
Who's helping and how will you divide the work?
Gather your tools
You will need money for advertising, supplies, and for start-up money. You will also need:
It also helps to have these items on hand
Scissors, masking tape, markers, pens, and pencils;
Pricing stickers;
Tables, cardboard boxes, and hangers;
Cardboard or poster board and wooden stakes for signs;
Balloons and string;
A notebook for recording your sales;
A fanny pack or zip pouch to hold your money.
Price your stuff
It's hard to decide what to sell.
Decide what you want to sell, then clean and price these things.
Use stickers or masking tape to label the prices.
To determine a price for an item, ask yourself:
Is the item in good condition?
Is it something people collect?
If you were to buy the item new, what would its value be?
How much would you pay for it at a garage sale?
Is this the best price for the best value?
After you price your items, fold them neatly in boxes and put them on hangers. This will increase your sales, as your items will be more presentable.
Advertise your sale
Call your newspaper to place an ad. Use the fewest words possible. Include the date, time, and location of the sale, and list some major items.
Make big signs to post in the neighborhood the day of your sale. Get attention with:
A large arrow and the words Garage Sale;
Contrasting colors
Balloons--garage-sale fans look for balloons!
Make sure you include an address, dates, and times on the signs.
Next? Open for business...
Tweet