Beware the Online Jungle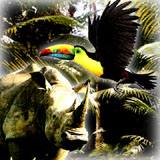 What might you meet inside the jungle?
Going online is like visiting the jungle. You never know what creatures will show up next. What strange beasts might you meet when you explore the Internet?
Computer critters
A computer critter is a nasty program that causes trouble. Like a large near-sighted rhino, one of these critters can destroy parts or all of your computer.
Viruses
The first use of the term "virus" was in a sci-fi movie!
Viruses can get into your computer in various ways. They wipe out the information on our computers. Like an ostrich, a virus can lay an egg that hatches later.
Then, it reproduces itself and sends copies to other computers before it is found.
A virus might simply show a "Gotcha!" message. Or, it might change your screensaver.

Worms damage files and take up space on your hard drive.
Worms
A worm is a type of virus that moves between computers and looks for available storage space. It then reproduces to fill up the disk space and shut down the computer.
Worms can damage files as well as try to fill up space.
Worms generally come through an e-mail. If you accept and run a wormy program, it sends little wormy files out to everyone in your e-mail address book!
Trojan horses
Trojan horses are programs that look safe, but hide something bad inside—probably a worm or a virus. It could be in something you download, like a game or a picture, thinking it's safe. When you run it, the virus gets to work.
A computer virus that is a Trojan horse is a program that looks harmless. Examples are free games or screensavers.
After you download the infected program and run it, the virus is released to do its damage. You may not even know which program was the source of the virus.
Sometimes they only annoy you, but usually a worm or virus will cause damage to your system or try to find personal information.
Spyware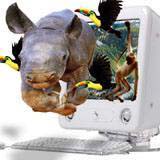 What's the difference between spyware and viruses?
Another critter that may sneak in from the Internet jungle is spyware.
Spyware is sent to computers without the user's knowledge.
Spyware tries to make money by selling ad space on your computer, or by studying your computer habits (without your consent).

Spyware gets on your computer as part of another program you've downloaded, but you don't know about its real purpose.
Your computer may begin to work very slowly. The spyware is mooching off of your computer speed.
Keep reading to find out what you can do to protect yourself online...
Tweet