Make a Career in Comics
Love comic books? Want to create them for a living? Great! A lot of students would give just about anything to have a career writing and illustrating comic books.
That means the competition for jobs is fierce. If you want it Make sure you have the talent! Besides talent you must master:
Human anatomy, including the twenty-three bones that make up your own hand
Basic grammar, spelling, and vocabulary—nobody pays much attention to a writer who misspells words.
Work for a big firm
If a major publisher offers to hire you, it will be hard to turn down. The Big Four of the comic industry are:
Marvel in New York City
DC in New York City
Dark Horse in Portland, Ore.
Image, in Berkeley, Calif.
Marvel and DC are the biggest.
A beginning editor
at either of them can expect to make $25,000 a year. If you chose to work for one of the Big Four, you will have to live where they are.
Work for a small firm
Smaller firms pay less than the majors, but still provide a good living for freelancers. For example: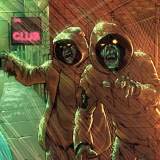 Want to see a larger image of Night Club?
IDW pays writers $500 per script for a twenty-two page book. This is less than a quarter what DC and Marvel pay.

IDW pays artists $125 dollars a page for completed art, or slightly less than DC and Marvel pay for pencil drawings alone.
Both Oni and IDW have sold comic book titles to the movies, which benefits the creators.
Try freelancing
In comics, you can make a good living as a freelancer.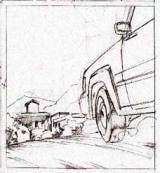 Want to see Detonator in progress?
On the plus side, you're the boss:
You choose your own hours (and days).
You live wherever you want.
You are free to let your artistic vision soar.
But you're also responsible for:
Health insurance
Filing your taxes every three months
Turning in your material on time. Fail to do so and you're out the door.
Freelance income
If you're an artist don't worry.
Writers usually make more money than artists. A focused, creative freelancer can write as many as five comic books a month.
It takes longer to illustrate a comic book than to write one. Even the fastest artist can only do two comics a month, and have them look good.
| | | | | |
| --- | --- | --- | --- | --- |
| Freelancer | Pay/page | Number of pages | Comics/month | Annual income |
| Writer | $80-$150 | 25-30 | 4-5 | $96,000-$270,000 |
| Artist | $100-$180 | 25-30 | 1-2 | $30,000-$129,000 |
Their character or yours?

Mike Mignola spent over a decade developing one character before it became a movie.
You can succeed in comics in two different ways:
Become a new writer or artist for Batman or Spider-Man. Everybody reads these comics. You will become an instant star and doors will open for you.
This is how Jim Lee, Todd McFarlane, and Kurt Busiek made it.
Create your own character, McFarlane did. After he left Spider-Man, he created Spawn, which was an instant success.
If you're an artist, it's easier to succeed with your own creation, because an editor can tell at a glance if you have what it takes.
Writers who have original characters can succeed too.
It just takes longer.
J. Michael Straczynski's Rising Stars is an outstanding example.
The surest way to break into the comics industry is to create your own comic...
Tweet