Give a Great Speech--it's Easy!
You've probably heard that public speaking is an important skill and that everyone should know how to make a speech.
It can be intimidating at first. Here's how to give a great speech.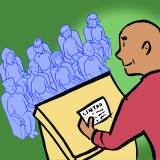 Bring notes with you.
Before the Speech
First, you need to get over the fear of speaking in front of a group of people. There are several steps you can take to make sure this happens:
Do your homework. Research your topic and be sure to know everything about it you can. Even if you think you might forget what you've learned during the speech, your knowledge will come from your subconscious when you need it.

Practice your speech out loud. Do this several times, in front of your friends or parents. This has several benefits. First, you can judge the length of your speech. Second, you get used to hearing your own voice. Finally, you'll learn what makes sense and what doesn't.
Act like you know what you're talking about. When you give a speech, walk to the podium with confidence. Show the audience you can hardly wait to tell them what you know. Stand up straight, keep your hands out of your pockets, and use good posture. Pretend you own the stage.

Bring notes with you. Don't read your notes word for word. Write down the main points you want to make, along with any facts you want to mention. This helps you be more natural when you speak and you won't worry about forgetting those important points.
During the Speech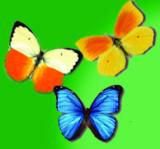 What about visual aids?
Start talking. Even the best speakers experience "butterflies." In fact, they say it helps them deliver good speeches!
Recognize that the butterflies will be there and just start your speech. They'll go away.
As you're speaking, use a natural tone of voice, and move around a bit. Don't stand as still as a statue.
It's natural to take a few steps to the side, backwards or forwards now and then. Just don't overdo it by constantly pacing around the front of the room. Act natural. If you prefer to stand still click here for some ideas.
Tweet