More than a Circus!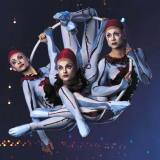 Watch the circus.
The circus grounds are quiet once again. The shining moon makes shadows on the yellow and blue striped tents.
Another busy day comes to an end for the members of the Cirque du Soleil (French for Circus of the Sun; hear how it's pronounced.
In the changing room, 15-year-old performers Letitia Forbes and Meng Yi Wang, change out of their costumes and wipe the make-up off their faces.
On the Move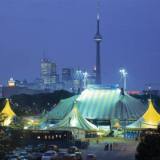 The Big Tent is 61 feet tall!
The Cirque du Soleil is a circus that travels from city to city around the world.
The team that Meng Yi and Letitia travel with includes 54 performers, six chefs, and two teachers.
Cirque roles are as hard as sports competition. So they also travel with two physical therapists, whose job is is to keep the performers in shape and help them recover after injuries.
Everyone plays a part in making sure the circus runs smoothly. Meng Yi and Letitia have roles that any teenager could envy.
Meng Yi's dream life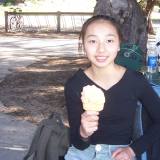 "My dream is to teach others what I know."
—Meng Yi
Being in a traveling circus is what performer Meng Yi has dreamed of since her childhood in Beijing, China.
Meng Yi started performing at age eight for the Beijing Acrobatic Troupe.
She became part of the Cirque du Soleil after she was selected in an audition her parents signed her up for.
"My parents really liked the circus," she says. "And I fell in love with the stage too!"
Meng Yi and her Chinese yo-yo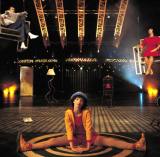 Opening scene from Quidam.
Meng Yi is part of a four-person team that performs in one of the Cirque's twelve shows called Quidam (pronounced key- dam).
Quidam means somebody in Latin. In the show a teenager named Zoe rebells against her parents and goes on a journey of discovery into a world full of colors and acrobats.
Meng Yi performs the Diabolo for Quidam.
Learn how to play with a Diabolo.
Diabolo is a Chinese yo-yo game. For each show Meng Yi holds two sticks connected by a long string. She uses this to juggle, toss and catch a wooden spool.
Classes and meals on the move
Meng Yi goes to school on the road. Classes begin at 10:30 am, and end by 4:30 pm.
She and the other performers get days off too. Meng Yi performs every other day and also has every Monday off.
She uses her days off to shop in the city and try all the good food. Ming Yi's favorite food is the famous fried Hong Kong fish ball.
Meals are served in trucks. The six circus chefs make sure that the girls never go hungry. They prepare all kinds of food—salmon, dumplings, pasta with brussel sprouts, and pumpkin pie.
The chefs work six days per week and serve about 450 meals per day!
Read on to learn about Letitia...

True or False: Andrew Jackson was referred to as a 'Jackass' during his 1828 election campaign. Click Andrew's head for the answer.
TRUE: In fact Jackson was quite fond of the nickname and used it as his symbol for awhile. It later became the symbol of the Democratic Party.
Tweet