Stick It to the Middleman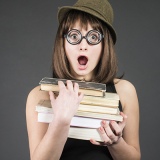 Are bookstores trying to scam you?
You walk out of the bookstore with a paperback book you've been dying to read. You probably paid around 15 bucks for it, but the cost to print that book was only about $4.
What gives? Are bookstores trying to scam you out of your money?
It might seem unfair for stores to mark up products for more than their worth, but you're actually paying for more than the book itself.
You're paying for all of the work it took to get the book from the author's laptop into your hands.
You get what you pay for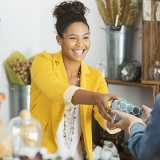 Your money goes to her paycheck.
When you buy a product from a retail store, the store is acting as a middleman. The store makes money by moving items from their creators—like an author—to the consumer, which is you.
If the bookstore only charged you $4 for that book, the owner would never make any money. Your $15 goes toward the employees' paychecks, the store's rent, and even the toiler paper in the bathroom.
You might be wondering why anybody would want to pay for all of that stuff. Why don't consumers just buy directly from the creator and skip paying the middleman?
It makes much more sense for books—and other products—to be mass produced and distributed to stores where people can easily come pick them up. Most of the time, the cost is worth the convenience...
Tweet