Tune Out Ads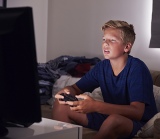 Marketers want you!
It's nearly impossible to go a whole day without seeing some form of marketing.
Whether it's a billboard on your way to school, a commercial for hair dye, or an advertisement that pops up while you're playing on your favorite app—believe it or not, many marketers create these messages specifically to get teens like you to buy their products.
Why teens?
Teenagers have always been an important age group for marketers. But wouldn't it make more sense to target adults who have full-time jobs? Teenagers actually have more money than most people might think.
People born from the mid or late 1990s through the 2010s are considered a part of Generation Z. According to Boston Globe, members of this generation currently have a
purchasing power
of 44 billion dollars. That's a nice chunk of change for a group of teens.
The "Nag Factor" is another reason why marketers try to get teens to fall in love with their products. Even if teenagers don't have the money to buy whatever the company is selling, they can ask their parents to buy the item for them.
Marketers try to get in your head

Data mining reveals your shopping habits.
Marketers aren't necessarily brainwashing you, but they do conduct research to find out what makes you tick.
Data mining is one way that marketers find out information about teenagers' shopping habits. Companies can often track the digital trail of the links you click, your purchase history, and even your location, depending on the privacy settings on your smart phone. Marketers use all of this information to produce messages that will influence teens to favor their products.
Use privacy settings on your devices and social media accounts to limit the amount of information that companies can get from your online activities. For example, always turn off location sharing on websites and apps...
Tweet