Music: The Universal Language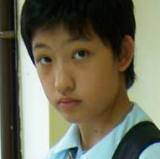 "I'll sing along when I'm by myself, but not in public."
—Pangjee
Chotisa "Pangjee" Charoensuk, from Bangkok, Thailand, isn't so different from teenagers in America. She begins her day by turning on the radio and often finishes her day with music as well.
"I listen to the radio every morning and listen to music on my phone on the way to school," says 14-year-old Pangjee.
She has an Mp3 player, too, but says, "I can't bring that to school. Mostly, I listen to Thai songs and a little bit of music from England and America."
A musical life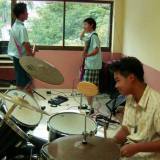 Sometimes, Pangjee and her friends all play at the same time.
She doesn't just listen to music. Pangjee likes to play her electric guitar and her bass guitar at her school, Daroonpat. She and other students practice at school about once a week.
"It gets pretty noisy when we play at the same time!" says Pangjee.
Pangjee prefers the bass guitar, and her favorite music is Thai rock and pop rock.
Sometimes, Pangjee and her friends play together and one of their mothers sings.
"Some of my friends are really good. Together, we sound OK," says Pangjee.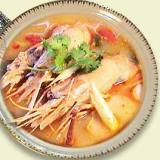 Tom Yum Kung is a spicy Thai soup made with shrimp or chicken.
Leave the cooking to mom
When Pangjee was little, she dreamed of becoming a chef. She still likes the idea of learning to cook, but can only make fried rice and fried eggs really well.
"I like to eat them and they're easy to make. I'm not good at cooking, but I would like to be," she says. She prefers to leave the cooking to her mother.
Pangjee's mother, Poranee, is opening a new restaurant and is an excellent cook.
Pangjee's favorite Thai food is Tom Yum Kung, a classic, spicy Thai soup.
"Sometimes we put milk in it. It's a little bit spicy but I like it spicy," she says. Pangjee also likes hamburgers—especially McDonald's hamburgers.
School days in Thailand
Pangjee is in the ninth grade
, which in Thailand is the last of her three years of middle school.
Pangjee's favorite classes are music and physical education. She says that math and science are probably her most difficult subjects next to her Thai language class.
"Writing it and spelling it is very hard," she says. But she needs to speak Thai because her family only speaks Thai at home.
Stay close to home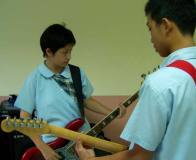 Pangjee would like to go to school to become a music teacher.
Next year, Pangjee will attend the first of three years of high school. After that, she'd like to go on to school to become a music teacher.
"I want to work in a high school, teaching kids how to play guitar and other instruments," she says.
She thinks she will go to college in her native country, Thailand. Her mother encourages her to travel to other countries, but Pangjee is a little scared about the idea because she is afraid of ghosts.
"Many people say they see ghosts when they travel, and it's scary to think about going to a place I'm not familiar with," she admits.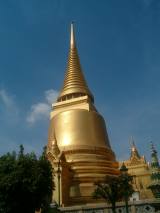 Pangjee says her family prays for the "good things that have come into our lives."
Tradition and MTV
Pangjee's family observes Thai tradition and customs at home. Her family is Buddhist and her mother prays at home.
Pangjee waits to do her homework until after she eats dinner. "I have homework almost every day," she says.
Once that's finished, Pangjee spends her evenings:
Talking on the phone with her best friend, Ben;
Listening to music;
playing basketball (she's played since second grade);
Reading comic books translated from Japanese to Thai;
Playing computer games like Need for Speed;
Watching TV (especially MTV).
Pangjee has had a cell phone since she was 12 years old. "That is not very young to get a cell phone. Even third graders have mobile phones now," she says.
Pangjee mostly uses her phone to call her friends and so her mom can call and see where she is.
Today and yesterday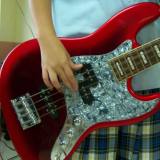 Right now, school is Pangjee's main job.
Pangjee says that kids 100 years ago in Thailand had a lot more responsibility—and even respect—than kids today do.
"Many parents today spoil their children," she says. "When their children want something, they will buy it, and when their children don't do their homework, they don't say anything."
Pangjee isn't spoiled. Although her family has a housekeeper, she does extra chores around the house to earn her allowance.
Pangjee says she'd like to get a part-time job, but her mother says that school is her job. So until then, Pangjee will wash her mother's car and do other chores to help accessorize her music!
by Lori Kaye Lodes
Tweet