From Idea to Published Script: Follow the Breadcrumbs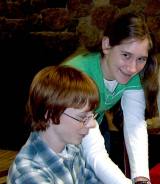 First, let the ideas flow.
We did it! Some kids from my 4-H club, our leaders, and I started with a few basic ideas, and eventually turned them into a complete script that was published by Plays magazine. Here's how!
Start by brainstorming
First, let the ideas flow.
Our group started with several brainstorming sessions, where we decided to write a script with a twist on the classic fairy tale "Hansel and Gretel."
As we wrote, we tried to incorporate everybody's ideas.
I think this is why our play turned out as well as it did. Working together allowed many great ideas to bubble up. Our script ended up with a more interesting and funny plot.
You can get a sense of the play from our list of characters:
The characters
The Characters
Hansel
kid who has no idea where he is most of the time
Gretel
See Hansel
Geek
Really smart kid; almost nobody understands her when she talks about her techy stuff
Goth
Actually really sensible, despite her clothes
Sassy
The average beauty queen, concerned only with herself
Jock
An uneducated, strong guy who needs some deodorant
Mom
The average American workaholic
Dad
Same as Mom
Narrator
Great storytelling Granny
Child 1 and Child 2
The self-appointed "editors" of the story
Rover
The smartest dog in the world
Now to put the characters into a story, which means we need a plot...
Tweet