Quick Fix in a Pinch

Coverups make things worse!
We all make mistakes. To avoid getting in trouble we try to cover them up, but that doesn't always work.
In fact coverups usually make things worse.
I know some easy tips that can help you avoid getting into trouble, and they might even make you end up looking like the hero! Here are just a few examples of how I've avoided trouble.
Blowing bubbles
My mom had just paid for me to get a $35 haircut. I was chewing my favorite bubble gum and couldn't resist blowing a bubble. All of a sudden, that huge bubble popped and was instantly part of my new hair style.
My mom would be home in 10 minutes. If she saw me with all this gum in the hair style she just paid for, it was going to be a really bad night for me.
I frantically tried using water and some shampoo. That didn't work. I tried dishwashing liquid and hot water; the gum was still there.
I looked at the clock; my mom would be home from the store in five minutes, and there was still a huge blob of gum stuck in my new $35 style.
Has anything like that ever happened to you? You frantically try everything you can think of, but nothing seems to work and you realize that you're in for big trouble.
Click here
for an unlikely solution!
Cleaning dad's car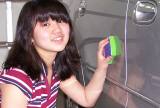 Impress Dad!
Cars sometimes get ugly tar spots that just won't clean off. Your dad's car then looks dirty all the time because you can't get that tar off.
Even if your dad goes to a car wash, he'll find that many of them can't get it off either.
I know firsthand; we went to a car wash and the people there couldn't get the tar off the car's finish.
Even if they could get it off, it wouldn't be cheap.
Find out how you can impress your dad.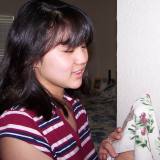 One minute they're sweet sibs, next minute they're gone!
A crayon mess
Your mom and dad go out and leave you to baby-sit your brother and sister. You look away for just a minute and they are gone.
You find them happily drawing all over the walls with a crayon. What was once a nice clean wall is now a child's masterpiece!
You become stressed about it because you can't clean it off, and it was your responsibility to watch your brother and sister.
Don't try bleach— it could make things worse by taking the color off of your walls along with the crayon drawing.
Regular soap and water won't work well either.
How can Caitlin get gum out of her hair?
More bubble gum
Crushed pretzels
Rubbing alcohol
Egg whites
Don't stress—there's a solution.
Tweet