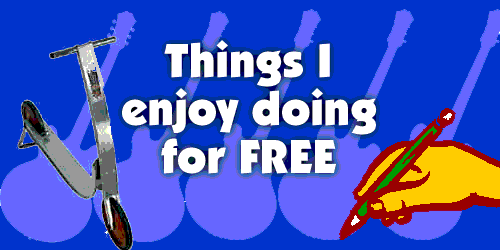 by Dillon, age 10
I'm really into skateboarding right now, and also I'm proud to say that I bought my board. My Aunt Heather agreed to pay the remainder if I saved half the money for the skateboard I wanted. Skateboarding is something to do when I'm bored, and I'm getting better every day.

Music is important to me, too. My favorite bands are Smashing Pumpkins, Limp Bizkit, Kittie, and Eminem. I also sing and play the guitar, especially songs that I write. I like the sounds of both singing and guitar. My songs are about things that happen to me, and other things I like. It's fun!
I love to entertain. Sometimes, my family puts on shows. We dress up, play music, and create performances in our basement. We do this more often in winter, when it's cold outside.

I like to draw pictures of everything: people, houses, landscapes, plants, and more! I like to draw because it lets out my expressions. When I'm sad I draw miserably. But when I'm happy I make beautiful art. (At least that's what people tell me!)

I can do all sorts of tricks on my scooter--bunny hops (lift one wheel up and hop) and spins (360s and 180s). I also like to do back flips (summersaults) ... but that makes my mom nervous, even though I wear my protective gear. So I don't do flips too often.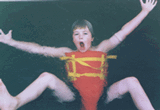 In summer, I like to swim at pools and in my grandma's lake. I think it's cool to swim in different kinds of water like the ocean, a pool, and lake. I don't like the weeds in Grandma's lake though.
I also like school. I play with my friends and learn something new every day! Even though I have to do it, it's free and it's fun.
Dillon attends Ganiard Elementary School in Mt. Pleasant, Michigan. He saved the money for his skateboard in his savings account at State Employees Credit Union in Lansing. He wants to be an artist or perform as a guitarist in a band when he grows up.


True or False: Lincoln was assassinated while giving a speech in the South.
Click Abe's head for the answer.
FALSE: He was in the Ford Theatre in Virginia watching a play when John Wilkes Booth shot and killed him.