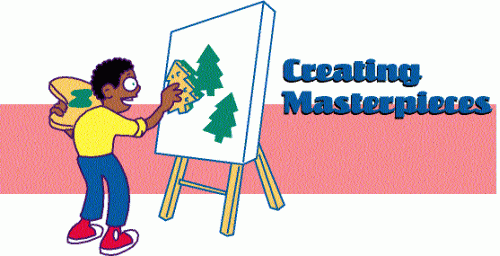 "Beauty is in the eye of the beholder." Have you heard this saying? It means that different people treasure different pieces of art. If you've ever gone to an art gallery, you probably liked some paintings more than others. Even your friends--who like the same foods you do--will choose different paintings as their favorites.
When it comes to making gifts for your parents, friends, and family, you might be surprised how much they treasure your gifts. Adults love to get pictures, drawings, and paintings that young people create.
Everyone can draw and paint. All it takes are your hands and a little creativity! Don't limit yourself to using the usual tools to create interesting art. Blow blobs of paint through a straw. Make monsters with the side of your hand dipped in paint. Turn hand and fingerprints into birds, bugs, and dinosaurs.
When you draw a picture, autograph it with your signature to give it special meaning. The lucky person you give it to will appreciate your masterpiece for many years!
Why not now?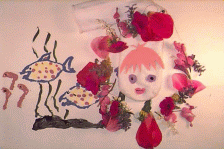 What are you doing this afternoon? How about giving some of these ideas a try. Who knows? Your paintings could hang in an art gallery some day.
Hand Print Animals - Put a dab of washable paint on a paper plate, and dip your hand. Create bugs, flowers, trees, and monsters by making thick lines with the side of your hand and thin lines with your pinky. Use a pen or pencil to make eyes for your creatures. Try using vegetables as painting tools to make unique animals, like a carrot to make a fish!



Octopus Designs - Use paint and your flat handprint to make octopuses. Or make giant flowers using your handprints for the petals. Put the design on paper or plates.



Sock Puppets - Use an old sock--one without a partner--to create a puppet. Use yarn for hair, buttons for eyes, and felt for clothing. Add glasses, freckles, and a hat. For fun, make the puppet look like the person you are giving it to.



Toothpick Sculptures - Use flat toothpicks, paper plates, and white glue to create a sculpture. After it dries, apply paint to add color to your work of art!



Flower Leis - Use the flowers blooming outside (including dandelions) to create a beautiful necklace (lei) for someone special. Carefully use a needle or a drinking straw to string the flowers. Add beads, pinecones, or items from nature to create a beautiful lei for someone special.


True or False: After being a country lawyer for five years, Lincoln got into politics because of the issue of slavery.
Click Abe's head for the answer.
FALSE: Lincoln lost his first election, for the Illinois state legislature, in 1832. He campaigned for public education and lending laws.