In the summertime, it is nice to swim in a cool pool. However, learning how to swim like a fish might cost money.
Here are some things to think about before starting swimming lessons.
Before you jump in
First: Who offers lessons? Where are they taught?
Second: When are the lessons? Will the dates and times work with your other plans?
Third: How many classes are there? How long is each class?
Shop before you buy
Click here to see where swimming lessons can take you!

Some lessons may offer a better price per class, but make you take more classes. This could end up costing more than you want to spend.
For example, one place may offer lessons at $10 for ten classes, which would cost a total of $100. Another may cost $12 for five classes, which would come to a total of $60.
Ten dollars for a class might sound like a better deal. But it will end up costing you almost twice as much because you have to commit to taking ten classes versus five.
You have two more choices: either take swimming lessons at your local YMCA (Young Men's Christian Association) or fitness center, or teach yourself to swim.
So, should you pay for lessons at the "Y" or pay for private lessons? Or should you teach yourself how to swim for free?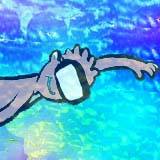 It costs me $240 to take four classes a week at our fitness center.


Make the comparisons
Fitness Center and "Y" lessons are a good deal in my city. The cost for lessons is $12 a class! I can take four classes a week for five weeks. The total cost is $240.
You can save $1 to $5 by getting a membership, either individual or family.
The cost per private lesson varies from place to place. Where I live, private lessons average around $16 a session.
The length of a class also varies. It might depend on where you live, and whether you learn in private or with a group...