Dog Training: A Doggone Good Deal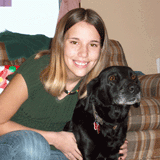 If you love your dog, youíll love dog training.
Dog training helps dogs and dog owners learn to get along. Learning side-by-side with your dog helps you find new ways to have fun together. At the same time, youíll teach your dog to stay out of trouble. The result will be a happier home for everyone.
Save a life
Many dog owners joke that dog training is a lifesaver. For the dogs, thatís no joke.
The American Society for the Prevention of Cruelty to Animals
(ASPCA)
says that people drop off between 8 and 12 million dogs and cats at animal shelters each year. More than half of these animals are killed when the shelters are unable to find them new homes. Most of these dogs are sent to shelters because of bad behavior that good training might have corrected.
Start with the basics
In dog training, the dog owner is both a student and a teacher. As a student, youíll learn how to communicate with your dog. As a teacher, youíll train your dog to follow commands and praise your dog when he does things right.
For example, the authorís son Nathan says seven years of 4-H training with his dog, Jesse, helped the pair learn to travel, work, and play together. One of Jesse's favorite skills is fetching a dumbbell.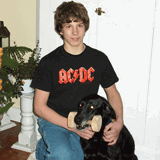 Start by looking for a class that teaches the basics. Your dog should learn to walk beside you on a leash without tugging and follow sit, down, and stay commands. Your dog should also learn to be polite when meeting strange people or strange dogs.
Once you and your dog know the basics, you can take more obedience courses or try other types of training. For example, agility training teaches your dog to go through tunnels, ramps, and jumps.
Find classes near you
Many groups offer basic dog lessons. For example, 4-H programs teach 4-H members the basics of dog training in weekly classes. Classes may be free or may carry a small fee.
The American Kennel Clubís (AKC)
Canine Good Citizen Program
aims to teach good manners to dogs and owners by providing a
Canine Good Citizen Test
. You can find
classes near you
on the AKC web site.
Boy Scouts can earn a Merit badge in the program. The local kennel club sets the cost, which can run from $65 to $100 for eight lessons. When the course ends, you may choose to be tested to see if your dog qualifies for a Good Canine certificate. The test usually costs from $10 to $25.
Private lessons from professional dog trainers are another option. Some trainers offer evening or summer lessons for kids. Costs can range from $60 to $90 or more for a six-week session. Some trainers hold summer camps for kids and dogs.
For free help, check out books and videos at your public library. Look for books and videos by well-known dog trainers like Ian Dunbar and Matthew Margolis. A good book for new trainers is Brian Kilcomminsí
Good Owners, Great Dogs.
Turn your hobby into a business
Learning to handle dogs can also help you earn money. Thirteen-year-old Alycia Krebs and her friend, Amy Henning, walked dogs for free in Clinton, Wisconsin. Grateful dog owners helped the girls turn their hobby into a business by giving them more than $200 in tips.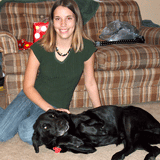 Alycia learned about dog training when she adopted her dog, Molly, from an animal shelter. The shelter loaned Alycia a dog training videotape, which she used to teach Molly basic commands.
"You need to know how to get along with a dog," Alycia says.
When Alycia and Amy started their dog-walking service in 2001, they put up posters and rode bicycles around the village to find friendly dogs that might want a walk. Later, they got referrals from clients and relatives.
For safety, the girls always worked as a team. Dogs from seven families got half-hour walks on weeknights and weekends. The girls also gave baths to dogs and offered weekend "pet sitting" for dogs and other animals.
Walking the dogs was a learning experience. For example, the girls learned that dogs that are taller than your waist require two handlers for control. Alycia notes that wearing roller blades while holding a leash is a poor idea. The dog jumped the toy wagon in the middle of the sidewalk, but Alycia tripped and fell.
Another dog escaped from a loose collar in the middle of the street. Luckily, Alycia was able to carry the dog to the sidewalk, where she put the collar back on tightly. Alycia adds that all of their clients made it home safely.
Alycia says 75% of their tips went to the dogs as toys and treats. "We did it for fun," she says. "There are a lot of really neat dogs out there."
Sweeten your community
Another way to earn money from dogs is by cleaning up dog waste. Many pet owners will pay someone to walk their yard and pick up the waste. All you need is a special shovel, a rake, and garbage bags. Itís smart to carry a small container of pre-moistened hand wipes too.
Like many businesses that smell bad, it can pay well. Services in big cities charge about $9 per dog for each weekly clean up.
Teach your dog to become a partner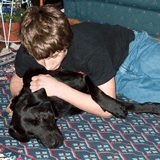 But working with dogs is about more than money. By training your dog, youíll become partners who can work side-by-side. You might train your dog to fetch the newspaper, or you might just teach him to keep his paws off the leftovers on the kitchen counter.
Training makes life more interesting for your dog. And your family will be happy with the results!

by Darla Dernovsek
Related Stories:
284d8ebe6f27cf73181c3fd336e113d7
TRUE. Jackson was born in a settlement that bordered on both states. His mother was traveling at the time of his birth, so the exact location is unknown.

True or False: Andrew Jackson was the first President to be born west of the Appalachian Mountains. Click Andrew's head for the answer.
FALSE: He was born in Waxhaw, South Carolina on March 15, 1767. Waxhaw is now part of North Carolina, and is surrounded by the Appalacian's.
Tweet