Smart Shopping, Smart Savings
Alex likes to shop with her friends but doesn't always have a lot to spend.
More time at the mall
When Alex, 12, is not at school or swim practice, she's at the mall. She likes to shop with friends, but doesn't always have a lot to spend.
"It's not like I have a full-time job," Alex says, "but I do help Mom around the house and get a small allowance. It's really not much. I can't buy everything I want."
Alex has two choices. She can spend her money on the first thing she sees. Or, Alex can do a little comparison shopping.
Comparison shopping takes longer but gives Alex more bang for her buck..."and more time at the mall," she says. Waiting to buy can be a good thing. When Alex takes the time to comparison shop, she makes better buying decisions.
"One time I found this real cute journal for $12.99. I didn't buy it right away; I just decided I'd look around first. Later I saw the exact same journal in a different store for $9.99." That's a 23% better deal!
Having a limited amount of money to spend is only one reason Alex takes her time before buying. The other is her mother.
"My mom is a real bargain hunter! Sometimes I can't believe it when she tells me how little she pays for stuff. "Alex is learning how to beat the middleman.
Shop, but don't drop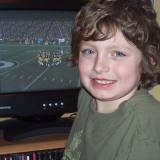 Nick says comparison-shopping websites "make it easy."
When you comparison shop online, you cover more ground in less time. It can lead to solid savings.
Nick has had his eye on the Madden NFL 13 game for his X-Box 360. He wants to use gift money from his 13th birthday to buy the game.
Nick doesn't have an unlimited amount of money. After visiting a few websites, he finds a range of prices for the game of $29.99 (used) to $64.98.
Can you guess which amount he's going to pay?
"I'm buying new, from Newegg," says Nick, "and I'll have enough money left over to shop for another game."
Editor's note: The prices shown were in effect when this story was posted. They might no longer be available.

True or False: President Jackson was well known for favoring rich people who lived in big cities. Click Andrew's head for the answer.
FALSE: Farmers, artists and people who ran their own small businesses liked him a lot. The rich and famous didn't trust him.
Tweet