Katrina: The Storm Still Rages
The aftermath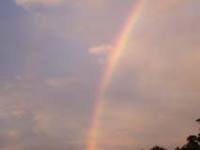 Most people can't imagine the aftermath.


Tuesday morning brought an incredible double rainbow. We packed up and left for home. Not one single business in the city of Jackson was open.
We headed south on Highway 49 and passed smashed cars, trucks and houses. We managed to pass around the blown over trees in the road.
After what seemed like hours, the highway patrol forced us to turn around and head back north. The road was no longer passable.
We tried another route and for most of the day followed some emergency workers all the way to Hattiesburg. They had a truck load of workers and chainsaws and cleared a path on the interstate just wide enough for our vehicles.
We got about a mile away from my aunt's house. Then we had to leave the car and walk through debris to find my family. It was the worst feeling in the world. Huge trees had crushed nearly everything—cars, houses.
What a relief! Trees had fallen all around my aunt's house, but everyone was alive and well!
By late afternoon, text messages were starting to trickle through on the cell phones, but we were not receiving any good news from my dad and brother, who had finally made it home.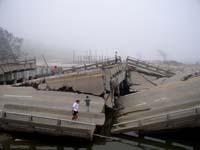 My cousin Benjamin and I are looking out from the Hwy. 90 bridge between Ocean Springs and Biloxi.


Destruction
We were anxious to get home. We loaded up some extra water and supplies and started driving south. Although there was some destruction, the road was quiet and pretty cleared of trees and debris.
To our surprise, we found the highway leading south out of Hattiesburg was in much better condition than those north of Hattiesburg. We were able to drive home without incident or difficulties and the main road into Moss Point had even been cleared by the time we arrived.
We were starting to have hope, but then we got to our house and found it nearly destroyed. Hurricane winds had uprooted trees, blown shingles off of the roof, and taken down power lines and street signs.
Thus began our days of shoveling and throwing out belongings...turning into days of knocking out walls and tearing up flooring. Like most of our neighbors, we stacked up everything at the curb.
What a horrible sight! Everything we owned was a pile of garbage, waiting to be hauled away to a dump somewhere. We had no water or power.
Tweet