Dream Big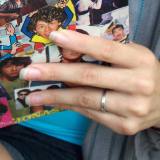 Organize your writings in a dream journal.


Write it down
When you have a dream, write it down. Do it often and organize your writings in a Dream Journal.
Decorate the cover in ways that will inspire you and get you excited to reach your goals. Inside your journal, make manageable steps to achieve your goal.
For example, have you always
dreamed of going to Paris
? Put a picture of the Eiffel Tower on the front of your journal. Then:
Write some ways that you could make and save money to be able to go;
Figure out how much money you would need and how long it would take to save it;
Brainstorm on ways to get it, for example, could you be a foreign exchange student?
Write down positive affirmations and read them every day.
If you don't like writing as much as you like looking at things, here's another fun idea...
Create a vision board

A vision board helps you keep the focus.


Vision boards are easy to make, and can be neat or messy. It's like laying out your ideas and dreams so you can see them.
Cut out pictures or words from magazines of things you want to do or places you want to go and glue them to a piece of foam core or poster board.
Things to do, places to go

If you have dreams of being wealthy someday, cut out pictures of nice cars and houses and put them on there.

If you have a dream of being in a band, put a picture of your favorite band on it.
Close
Your vision board is a fun way to keep focused.
It will remind you of your goals often and make you more determined to work harder in your day to reach them.
Make connections
It's also a good idea to make connections. If you are a writer, for example:
Contact local writers in your area;
Go to a book signing at a bookstore;
Write to a famous novelist.
Meeting and talking to people in the area that you are interested in will keep you excited and encouraged.
If you are really busy, and often find yourself worrying about that algebra quiz tomorrow and can't focus on getting it off your mind, here's a good option...
Tweet