Unusual and Unique Credit Unions
Stretch your imagination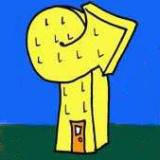 Look here for a credit union in your neighborhood!
Airline Pilots Association Federal Credit Union
serves airline pilots in all 50 states. The credit union has no offices, no tellers, and no drive-up windows. It serves its 6,000 members over the Internet and through ATMs, and it's virtually based in Illinois.
Ever wondered where Jack Sparrow puts all that buried treasure or how Cinderella budgets for her glass slippers? The answer of course is that they belong to Partners Federal Credit Union.
Which of these presidents belonged to the White House Federal Credit Union?
Abraham Lincoln
George Washington
Barack Obama
Credit union membership is confidential
For 50 years this credit union has served the employees of Walt Disney Corporation! With service beyond your wildest imagination and nearly 100,000 members, there's no telling what kind of characters you might see there!
From stars to Star
Imagine a credit union run only by kids your age. Sound fun? Well this is not just a dream at Star Credit Union in Madison, Wis. Sponsored by Summit Credit Union, Star Credit Union employs members of the Boys and Girls Club of America to serve as tellers and invites all members and former members of the Boys and Girls Club to invest.

True or False: When the US issued its first postage stamps in 1847, the postmaster general wanted to use Jackson's image on the new 5-cent stamp. Click Andrew's head for the answer.
TRUE: The postmaster general wanted to use Andrew Jackson's image, but switched to Ben Franklin, because it would be a more unifying icon for the divided nation.
Tweet