The Middle School Musical!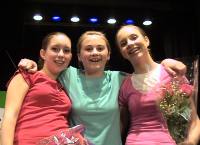 After the show we were elated!
Time and money
Being in the musical was exciting, but it did take a lot of time, effort, and money.
We rehearsed every school day for almost two hours. In the beginning we had a few days off. When it got closer to the performance time, we had to extend rehearsals so we could get everything done.
One of the hardest things for me was to say my lines in the right place and order. At first I was saying the wrong line at the wrong time so I had to work really hard on that.
I would spend at least five hours a week at home practicing my songs and going over my lines. In the end, it paid off.
Meet other aspiring teenage actors at the BackStage message board.
Although my costume was fairly plain, I still ended up spending quite a bit of money on it. The outfit cost about $70, which included clothes, make-up and shoes.
I also started taking voice lessons, which, during the six weeks of rehearsal cost almost $200.
I think the voice lessons were well worth it. They really helped me to be more confident with my singing and to overcome my fear of performing in front of a big crowd.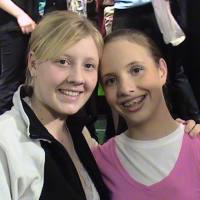 My sister Nichole (left) congratulates me after the performance.
The big event
We got to perform the musical twice for our school and once for the public. Fourteen of my family members came to see the show!
With all the hard work we put into it, I was not surprised that the musical was a huge success. My friends, family and teachers all congratulated me and said I did a great job.
I will definitely tryout again next year and in high school as well. Although it would be nice to get a lead part again, I would also enjoy being in the ensemble. It would give me a different perspective of performing.
While I truly enjoy singing and acting, I'm not sure if I will pursue it as a career. I do have other interests I want to explore.
But I surely won't rule theatre out!

True or False: Andrew Jackson's home, The Hermitage, is a part of the Trail of Tears National Historic Trail. Click Andrew's head for the answer.
TRUE: Jackson was the president who signed the horrific Indian Removal Act into law. The National Park Service displays Jackson's home as a site on the trail where many Cherokee died from being displaced.
Tweet