School House Rock
Ready, set...prepare!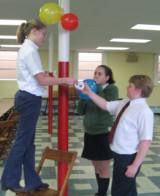 Don't forget to decorate!
Now that you're done planning, you can prepare. Rent a hall or gym if you're not having it at your school. Then, book your DJ or band. If they're not available, try your other choices.
Make sure you get the word out! Hang up posters and flyers advertising your dance, tell other schools about it, and make sure the students in your school tell their friends.
Make sign up sheets and tickets if necessary. Send them to other schools.
If you have a large school or many people are coming, you can assign committees or groups.
Do any cleaning or setting up that is needed, decorate, and pick up food, unless you're cooking it.
Problems can arise, but hopefully you'll be prepared to find a solution. It rained and snowed the night of our dance, in fact, it was practically a blizzard. But that didn't stop kids from coming!
Everyone showed tremendous school spirit and we still had a great turnout. As one student said, "I wasn't about to let a little snow stop me from coming to my school's first dance. It should've been a snowflake dance."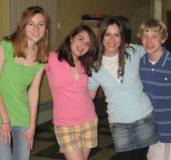 Dances are fun!
Enjoy!
Whew! You worked hard, so why not have a little fun? Call up your friends and dance the night away.
Request songs and have a blast, while making money for your school. Don't forget to take lots of pictures! You can use them in the yearbook or put them on display in school.
With the right amount of planning and enough help and creativity, you can save money, make a good profit, and make your school dance a night to remember!
My school's first dance was great. Everyone enjoyed themselves, even the volunteers. An unexpected surprise is that the dance brought our school closer together.
One student that attended said, "It was one of the best dances that I've ever been to!"
Don't stop
What does Chad recommend for formal dance ticket prices?
Same as regular dance ticket prices
Twice regular dance ticket prices
Half of regular dance ticket prices
Heads, high--tails, low
Dances are easier than you might think, and your dance can be just as successful. After you have a dance, don't stop there. There are many ways that kids can help their schools make money.
Be creative and come up with your own ideas. The steps are similar for all fundraisers.
Just write your ideas down, present them to your principal, and get out and do it. Don't be afraid to put your plans into action!

True or False: When the US issued its first postage stamps in 1847, the postmaster general wanted to use Jackson's image on the new 5-cent stamp. Click Andrew's head for the answer.
TRUE: The postmaster general wanted to use Andrew Jackson's image, but switched to Ben Franklin, because it would be a more unifying icon for the divided nation.
Tweet