School House Rock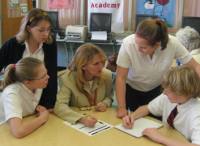 The student council officers, our advisor (center), and I discuss the dance.
Does your school need new lockers? Is the gym equipment old and worn out?
Maybe your class is going on a field trip or your math books are outdated.
Your school could probably use some extra cash. The solution: have a school dance!
Organizing a school dance is not only an easy money maker, it's also a way to meet new people, and learn new skills.
All you have to do is follow a few easy steps.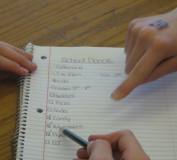 Keep a checklist.
Plan Your Dance
First, meet with a group of students, or the student council.
Since I was the student council president, I met with the council members to discuss the details of having a dance.
Here are some of the things you'll want to discuss:
Date and Location. Make sure that your local schools aren't having other events that night or even that weekend.
Theme. Decide if your dance is going to be casual or special like a winter formal.
Music. You want a DJ or band that can fit your theme, and that the students enjoy.
Admission. Decide which grade levels you'll invite, and how much you'll charge.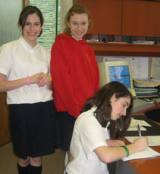 Three 8th graders sign up for the dance in the school office.
Food. Decide what you will have to eat and drink. Soda, punch, and water could be some choices for drinks. Pizza and candy are great for snacks.
Sign up. Determine if you want students to sign up ahead of time or pay at the door.
Decorations. Plan your decorations according to your theme. You don't need to overdo it, and school students can even make their own decorations to help lower the cost.
Volunteers and chaperones. Get an idea of how many chaperones and volunteers you'll need. You can ask parents, teachers, and older siblings or relatives.
When you finish writing down all your ideas, present them to your principal for approval. Now it's time for the second step...
Tweet