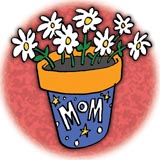 Who started Mother's Day?


She woke you up this morning, packed your lunch, and organized your backpack.
All this while getting herself ready for a busy day.
It seems like she's everywhere! Wait—is she Superwoman? No, she's your mother!
She does so much for you, it is always best to show her how much you care. Isn't it great that there is one special day each year for showing moms how wonderful they are!
Mom's special day
Sometimes people celebrate with expensive gifts, or throw a big party and invite a bunch of family members.
These are nice ideas, for those people who can afford them. However, your mother knows you don't have a lot of money, and here's a little secret...she doesn't care!
A nice homemade gift means just as much as or more than something from the shopping mall.